What could be more exciting than a team building in Venice? One of the most beautiful cities in the world.
Venice's evocative and fascinating environment, with its network of canals, picturesque calli (alleyways) and historic palazzi, can help create a stimulating atmosphere in the company through a team building activity.
Venice is the ideal city for an exciting team building experience that combines the art of music with corporate collaboration.
Our team building activities in Venice can be likened to an orchestra of talents and skills coming together in an original and unexpected composition.
Each team member will be involved in a musical journey that will stimulate creativity, empathy, active listening and effective communication.
Through musical dynamics, one learns to listen to colleagues, understand their unique tones and respond harmoniously to their ideas.
Rhythms and notes, like business skills, may differ, but together they create a melody that stirs emotions and produces extraordinary results.
Engaging activities such as Drum Circle, Corporate Jingle or Boomwhackers stimulate people to work synergistically, discovering new ways of communicating, facing challenges and finding innovative solutions.
Discover all our team building activities in Venice in our video presentation.
Finally, we know that business success requires flawless orchestration.
Musical team building activities in the beautiful setting of Venice is a metaphor for synchronisation, cohesion and mutual respect to achieve excellence as a team.
One example is the team building in the historic centre of Venice that featured the colours and notes of the Boomwhackers for around 200 employees of QVC, a television network on digital terrestrial channel 32.
A fun and energising activity that created a moment of participatory entertainment during their company dinner with the performance of Twist & Shout.
In the beautiful setting of the Hotel Europa & Regina, we held an exciting Drum Circle for 2 groups of 50 people from ASAHI KASEI (a famous Japanese pharmaceutical company) from China and Japan, respectively.
Sharing through multicultural activities is an enriching experience.
When language barriers are overcome, and one immerses oneself in cultural diversity, a fertile ground for mutual understanding and empathy is created.
We have the opportunity to discover and appreciate the different perspectives, traditions and values present in the team, creating deep bonds that go beyond words.
Music, for example, can communicate emotions and feelings without translation.
This process of musical sharing fosters integration, open-mindedness and a sense of belonging.
Here are some photos of the activity: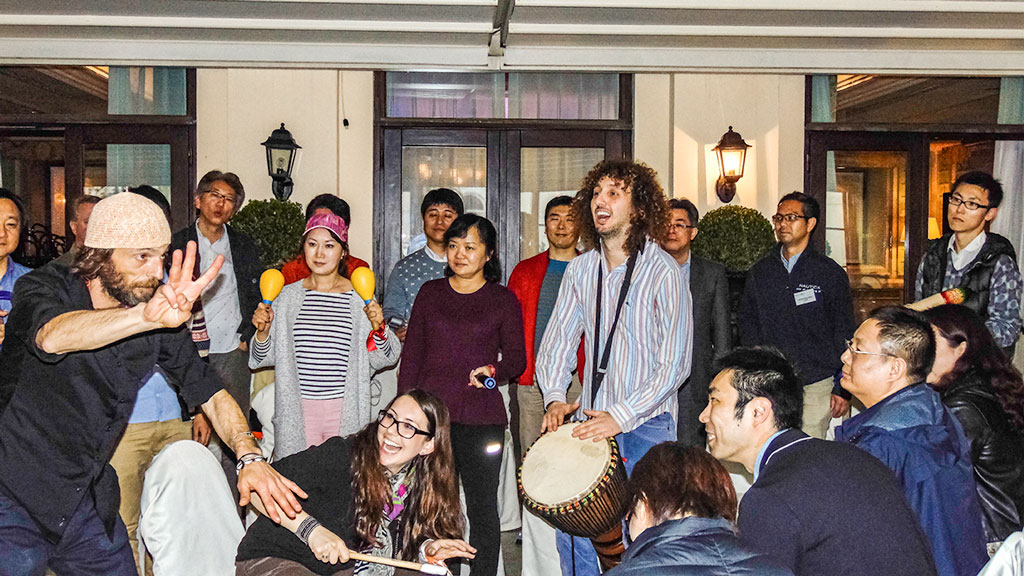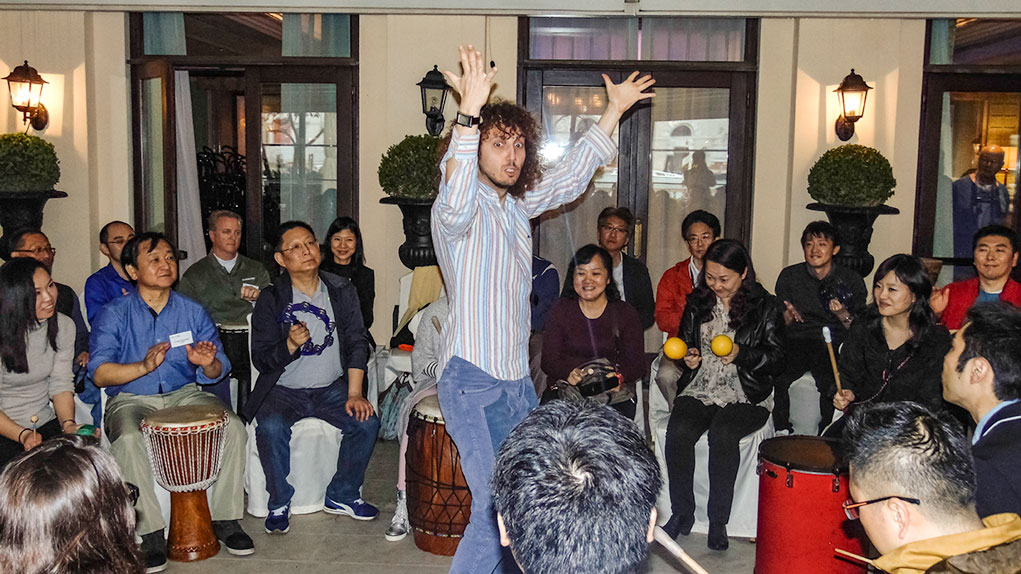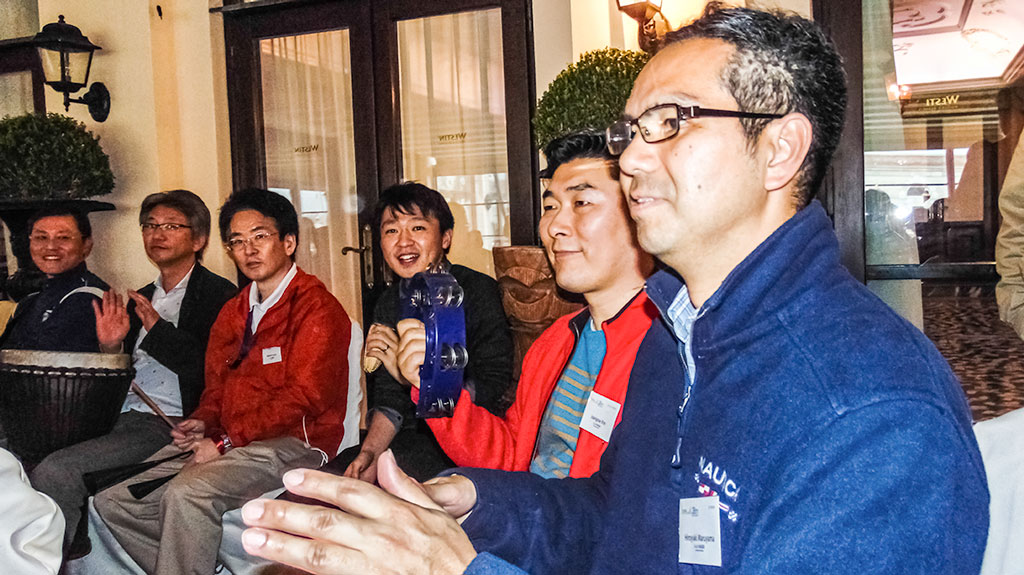 Finally, we did another team building in the outskirts of Venice with the Drum Circle & Corporate Jingle for 60 employees of FARMIGEA.
Here is the feedback from Stella Esposito – ISF @ Farmigea Holding:
"It was really a pleasure to get to know your art!
Your team building technique is extremely overwhelming, fun and original.
You were able to release the inhibitory brakes of many colleagues, allowing them to be fully integrated.
I believe that your work is of paramount importance for companies because the best results are achieved when you have a team!"

We are at your disposal to organise a team building activity in Venice.
CONTACT US: we are at your disposal for further information or for a free quote at info@onebeat.events