The corporate Christmas Party is an important event because it is a time to get together outside the day-to-day business and an opportunity for management to share values, common goals and maybe a few surprises.
One of these is definitely the Musical Team Building!
It is no coincidence that we again energised the Christmas Party of major customers such as Volvo, Coca-Cola, Johnson & Johnson and many others.
In order for your team to work together, everyone must be in synchronisation.
Musical team building activities are powerful for bringing people together, promoting trust, empathy and releasing stress.
Researchers have demonstrated the link between music and a sense of belonging to a group, discovering how it contributes positively to the empowerment of a work team.
You can find out more in this article.
In simpler terms, music helps us to affiliate with groups.
People feel closer and more connected through music, overcoming all barriers of age, culture, background and gender.
It is a fundamental element of human history and is present in the life of any ethnic group.
It has existed since the beginning of time, it is a distinctive character of every culture and a means of uniting peoples.
What better way to get to know the uniqueness of your team than through a tool that makes us feel good?
When we make music together, our bodies release 'happiness' hormones called endorphins and dopamines.
So if you want a corporate Christmas Party that energises the group and lifts morale, make sure there is no shortage of interactive musical activities.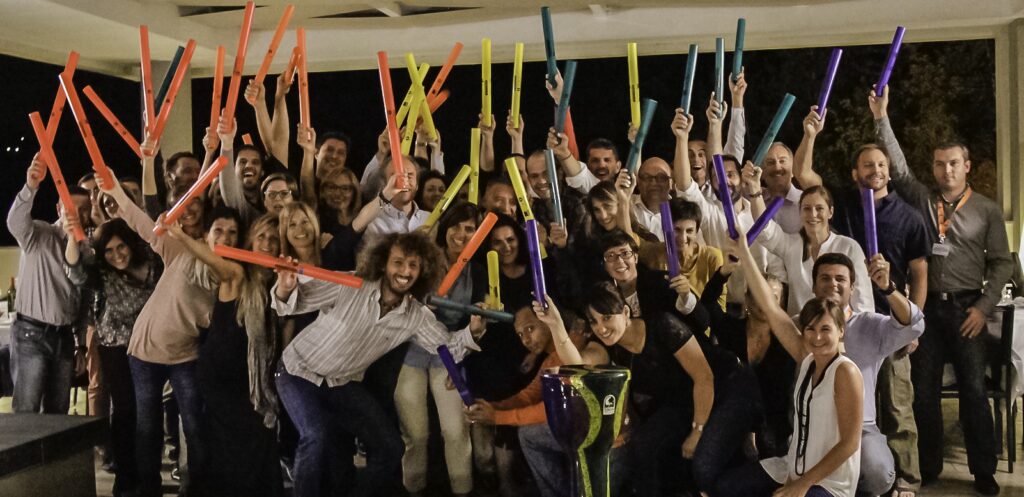 Let's move on to the story of the company Christmas party involving 300 COCA-COLA employees from northern Europe.
In the beautiful setting of the Alfa Romeo Historical Museum in Arese (MI), we energised and coloured the convention with Boomwhackers.
With the different notes of these coloured plastic tubes, we created an ice-breaker just 20 minutes in which we arranged the famous Beatles song 'Twist & Shout'.
This video speaks more than a thousand words.
The most popular activity for the company Christmas Party was again this year the Drum Circle.
The Drum Circle is an instant rhythmic experience suitable for all types of people; no musical experience is necessary.
Called upon to make music in the moment, participants engage together to create a group rhythm and cooperate in rhythmic games, with the support of a facilitator who gradually helps them to create increasingly engaging musicality.
At the end of the Drum Circle, we will instead create a full-fledged Corporate Orchestra, where each section will have a musical part that, together with the others, will form an energetic and engaging song where the climax is reached.
Here are the companies that energized their corporate Christmas Party with the Drum Circle & Corporate Orchestra:
170 employees of SANOFI.
130 managers of AXA.
90 employees of VOLVO.
70 employees of JOHNSON & JOHNSON.
60 employees of CONTROLS.
50 managers of MOSKITO DESIGN.
40 employees of CARLSBERG.
170 employees of GI GROUP.
100 international managers CONTINENTAL.
100 international managers of TRG.
40 employees of FINDOMESTIC.
40 employees of CISIA.
40 employees of ZUCCHETTI SYSTEMA.
20 employees of LIVANOVA.
30 international managers of BAKER HUGHES.
20 international managers of TOKYO ELECTRON.
15 managers of AGEDI SAM.
Another fantastic team building for the company Christmas Party is the Corporate Jingle in a Stomp version for 50 employees and family members of HIDRA SB, a leading research and development company for sustainable business solutions.
After building musical instruments from recycled material and creating a corporate jingle to the tune of Jingle Bells Rock, the four teams competed in the final contest.
Here is the video of this beautiful corporate Christmas party.
Finally, the last team building event worth mentioning is the Choir involving 50 female employees of ZETA SERVICE, a leading employment consultancy agency.
It was an incredible activity, culminating in the final meeting that concluded a multi-year training course.
Here is the feedback of Federica Cogrossi – President Assistant & Marketing Communication @ Zeta Service:
"5 stars fully deserved!
Together with the OneBeat team we spent an unforgettable afternoon: 50 girls united in song, dance, movements but above all in hearts.
Out of this team-building came passion, commitment, serenity, happiness, freedom and optimism.
The organisation of the day was also perfect. OneBeat, from the first contact, followed us with extreme kindness and professionalism, planning an afternoon in line with our thoughts.
Definitely recommended!"

Here are a couple of feedbacks that speak louder than a thousand words.
Barbara Panichi – Marketing & Communication @ Zucchetti Systema:
"I worked with Cristiano to organise the musical team-building event for Zucchetti Systema for the company Christmas party.
As a company we came out very satisfied and entertained, he managed to involve everyone and make us feel at ease, and a light and friendly atmosphere was created that broke the ice for the subsequent dinner among us colleagues.
The chosen musical format, the Drum Circle Orchestra, allowed us to play various musical instruments, creating a unique and engaging melody for all.
The aim was therefore to cooperate synergistically and unite us more as a working group. Congratulations!"
Luca Pincelli – Marketing Specialist @ Controls Group:
"We used OneBeat's services for a corporate team-building event and the result was really good.
Both he and his partner Michele were fantastic in involving all colleagues, turning some initial mistrust into unstoppable enthusiasm."
Fabrizio Salvetti – Head of Communication @ Cisia:
'Energy, competence and a lot of listening skills. Cristiano is all this and it was a fortune to meet him.
A group, any group of people (all the more so when it is an organisation or a company), can only come out more united, stronger and lighter from its Drum Circle."
I hope you enjoyed our account of the musical team-building for the corporate Christmas party of many major companies.

I hope you enjoyed our team building ideas for an unforgettable corporate Christmas Party!
CONTACT US: we are at your disposal for further information or for a free quote at info@onebeat.events