Christmas is approaching, and so is the desire to celebrate it with colleagues with an engaging team building activity.
Have you been tasked with organising your end-of-year corporate event but still don't have a clear idea?
Looking for the ideal team building activity for your Christmas event?
You're in the right place; you can confidently and successfully plan the Christmas team building activity that best suits your business context.
The Christmas Party is a fun and relaxing opportunity to create team spirit, empathy, togetherness and integration.
One gets to know one's colleagues in other, previously unknown guises, creating a more intimate and familiar atmosphere.
In addition, it is often an ideal time to celebrate achievements throughout the year and an opportunity to launch new goals while motivating participants with an engaging activity.
We have realised over 200 Christmas musical team building activities for major companies and corporations such as Toyota, Coca-Cola, Johnson & Johnson, Luxottica, BMW, Mercedes-Benz, PayPal, Sanofi and AXA.
The reason is that musical team building has a unique power to unite people.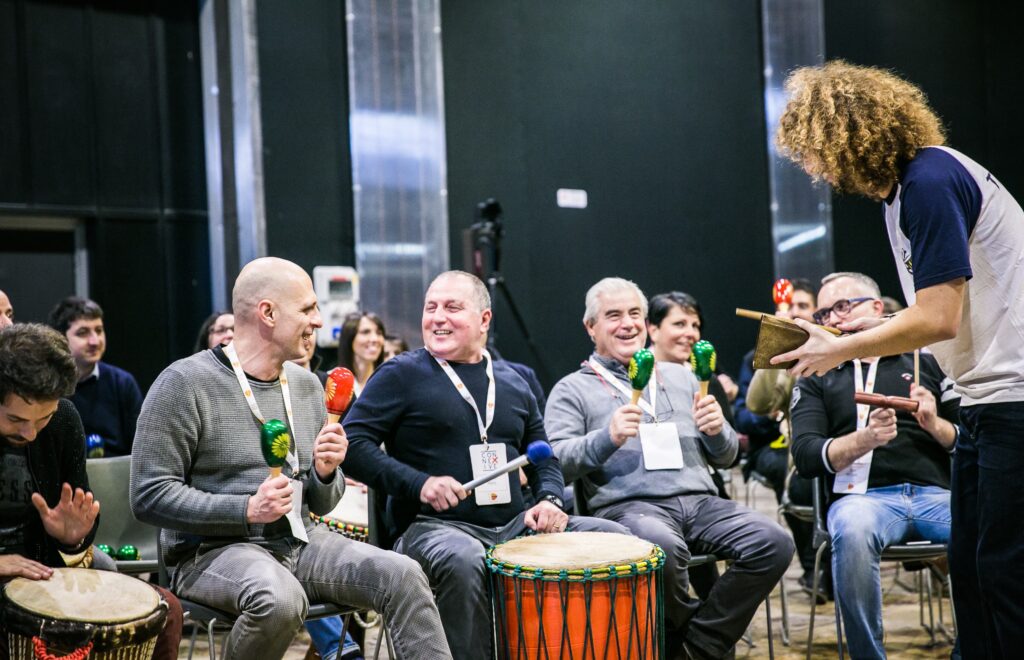 Singing and playing together creates an emotional bond and a sense of belonging to the team.
Music, in fact, requires strong collaboration. To create or perform a song, team members must learn to listen to each other, synchronise and work together to create a coordinated result.
This encourages communication, trust and the ability to work together towards a common goal.
Christmas musical team building activity offers the opportunity to express the participants' creativity because everyone can contribute their talents to ideas for arrangements.
This involvement stimulates enthusiasm, creates a festive atmosphere and leaves lasting memories, improving the participants' mood and creating a positive working environment.

The time has come to introduce you to our musical team building ideas and activities for your corporate Christmas event.
DRUM CIRCLE
The Drum Circle is about creating 'in the moment music' through a process of free improvisation.
In short, it is a jam session in which participants play drums and percussion in a circle under the guidance of a facilitator who makes it possible for everyone to get in time and gradually develop increasingly engaging musicality through simple games.
It's a bit like playing on the beach around a bonfire, but with a qualified professional conducting the various stages of building a coordinated rhythmic orchestra.
The facilitator facilitates critical moments and raises the musical quality to the surprise and great satisfaction of the participants.
It is a team building activity that allows you to play freely, with no set parts, which is why it is perfect for a fun and relaxed Christmas event.
It is an ideal activity for any number of participants and lasts from 30 minutes to 1½ hours.
CORPORATE JINGLE
The Corporate Jingle is our creative and competitive activity in which participants become the songwriters of their own corporate jingle.
The participants, divided into groups, choose a famous song on which they will have to modify the original text to create their own, entertainingly reflecting their own working reality.
The next step will be to challenge their colleagues in the final performances where they will sing their jingle.
Of course there can be a prize for the best team.
It is recommended for groups of less than 100 people and lasts between 1h and 2h.
It can also be realised ONLINE.
BOOMWHACKERS
Boomwhackers are the fastest activity, ideal for large audiences.
With interventions of 5 to 30 minutes, we create high-energy rhythmic and melodic orchestrations using simple coloured plastic tubes.
Each colour corresponds to a note; when you hit the tube somewhere, the sound is 'BOOM'.
It is the ideal activity for large conventions or corporate dinners with little time available.
CHOIR
The Choir is associated with the Christmas festivities and the sense of joy they bring.
Singing Christmas songs together creates a festive and engaging atmosphere, leaving positive emotions and a sense of belonging among team members.
The various sections of the choir, each with different vocal characteristics, work together to adapt their individual skills to the collective sound, creating the effect of a single voice.
Afterwards, they join the other sections that have learnt the corresponding musical parts, to prepare for the highlight: the final performance.
BODY MUSIC
Body Music is another fast-paced activity, also ideal for large audiences.
Through the sounds and movements of our bodies, we create 'We Will Rock You' in just 10 minutes.
Music is experienced as our first musical and communicative tool, energising participants in a fun and positive way, who experience with harmony and synchronicity a completely surprising way of being a team.

I hope you enjoyed our team building ideas and activities for an unforgettable corporate Christmas!
CONTACT US: we are at your disposal for further information or for a free quote at info@onebeat.events