Team Building in Florence offers a unique experience that combines the enchantment of this historic city with engaging activities to enhance collaboration and team cohesion.
Florence offers an ideal athmosphere to foster group communication, creativity and motivation, creating an unforgettable team building experience.
Leading companies such as General Electric, L'Oréal, Novartis, Findomestic and Var Group have chosen our musical team building to energize and improve their teams according to specific corporate objectives.
We enter the exciting world of musical team building, where sounds become the building blocks for harmonious relationships.
Imagine to leave behind the confines of speech and immersing yourself in a universe of melodic rhythms that transform normal team dynamics into a unique experience.
Creativity, collaboration and authentic communication are discovered.
It is not necessary to have musical skills, because there are no boundaries or judgements here.
Each individual brings their unique talent, creating a mosaic of sounds that intertwine and combine to create a multi-sensory experience.
Improvisations of engaging rhythms in a wordless musical dialogue, where every gesture and every note is a response to the teammate.
Everyone becomes an attentive listener and passionate performer, exploring new territories and embracing the beauty of the imperfections that emerge in music.
The sounds merge into a unique composition, an unforgettable experience that positively influences the working environment by creating a profound sense of belonging.
It's time to tell you about our musical team building in Florence.
We start with a unique team building event of a special magnitude, as the famous ObiHall in Florence was needed to hold the entire audience.
An incredible 10-minute ice-breaker with Boomwhackers for the opening of the L'OREAL convention with 1,000 hairdressers from all over Italy for the Class project.
I think the following video speaks for itself about the energy and involvement we managed to create with the participants.
Another important team building project for GENERAL ELECTRIC Oil & Gas took place with 3 team building activities in different areas of Florence.
The most important is surely the one that involved 250 country managers and executives worldwide with the colours and notes of the Boomwhackers at the 2016 kick-off to launch the new goals.
A few months later, however, we involved two groups of 40 engineers each in a unique experience with drums and percussion.
More precisely, we started with Body Percussion and then moved on to Drum Circle, ending on a high note with the construction of a Brazilian rhythmic from our Corporate Orchestra.
A remarkable shared joy to have the opportunity to meet one's colleagues 'in another guise' and discover the keys to a more effective interpersonal relationship within the work team.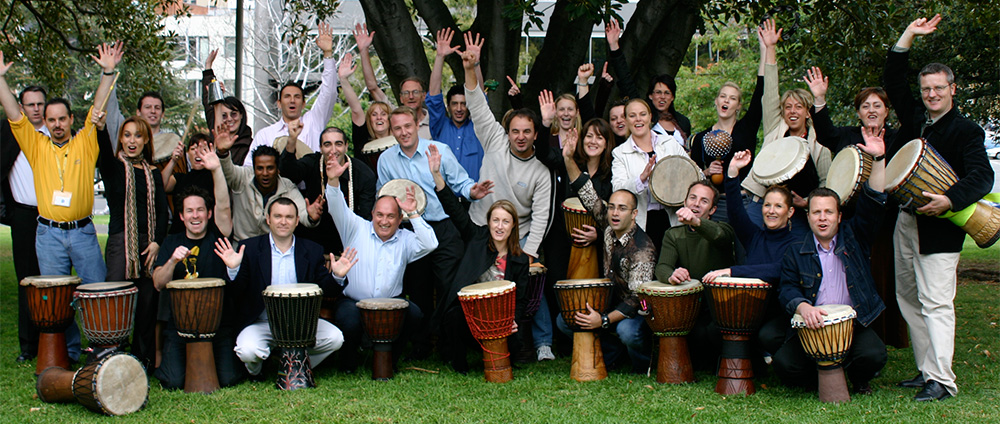 Another prestigious company like FINDOMESTIC chose us for 2 team building events with the Drum Circle in the centre of Florence, involving 90 and 60 employees from the commercial and legal sectors respectively.
Here is another event that makes us happy to have contributed to the beautiful Dynamo Academy Project, namely an overwhelming Drum Circle for about 90 employees of the oncology branch of NOVARTIS.
It was an important and supportive intervention requested by the company to strengthen human resources and raise awareness of Dynamo Camp's wonderful work for children who have undergone invasive cancer therapies.

Now let's move on to another special event that came close to breaking our record for the number of participants (650) in a Rock-Tribe Band , the incredible team building held again at the ObiHall in Florence.
We involved 600 PUBLIACQUA employees with drums and percussion in a unique and unforgettable burst of energy.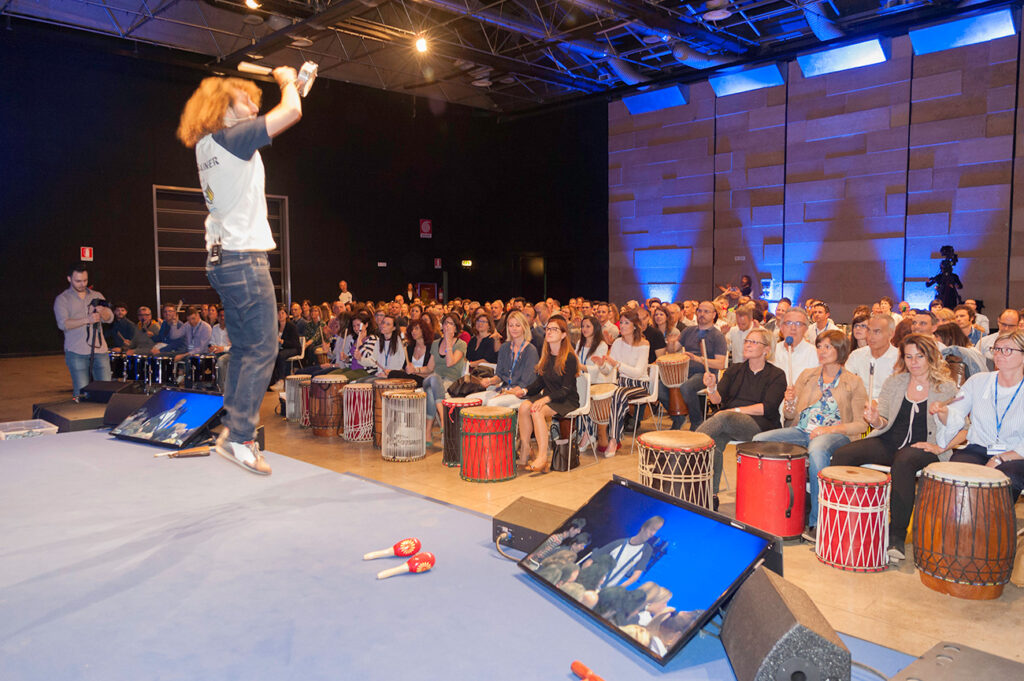 In the splendid environment of Villa Artimino, in the province of Florence, we made another team building with the Rock-Tribe Band for 170 employees of PRESTITALIA, a leading company in the financial lending sector and part of the Ubi Banca group.
Energy and a lot of creativity in the creation of the rock theme song that featured them in the final performance.
Passing through another beautiful hilly landscape characteristic of the province of Florence, we headed to the Castelfalfi Resort for a new team building event: the Drum Circle & Jingle d'Autore for 50 lawyers from the PORTOLANO CAVALLO law firm.
The purpose of the activity was to energise the convention and create a dimension to develop mutual listening for more effective communication through the orchestra metaphor.
Again in the marvellous Castelfalfi Resort, we held a Drum Circle for 130 managers of SILLABIT, a leading company in the video game industry.
I think the following pictures speak louder than a thousand words.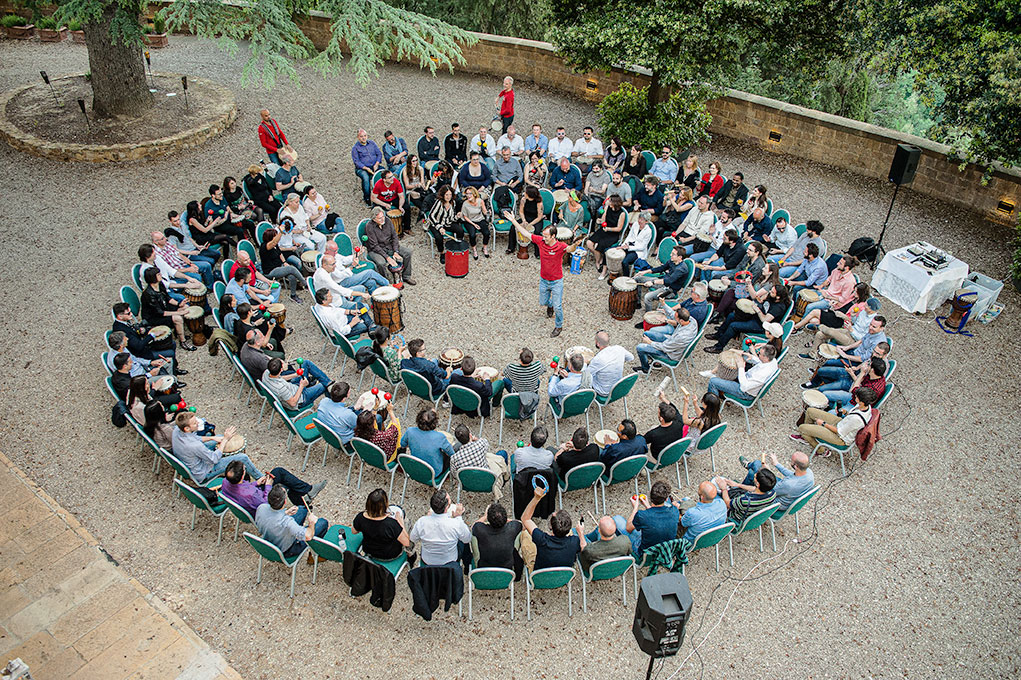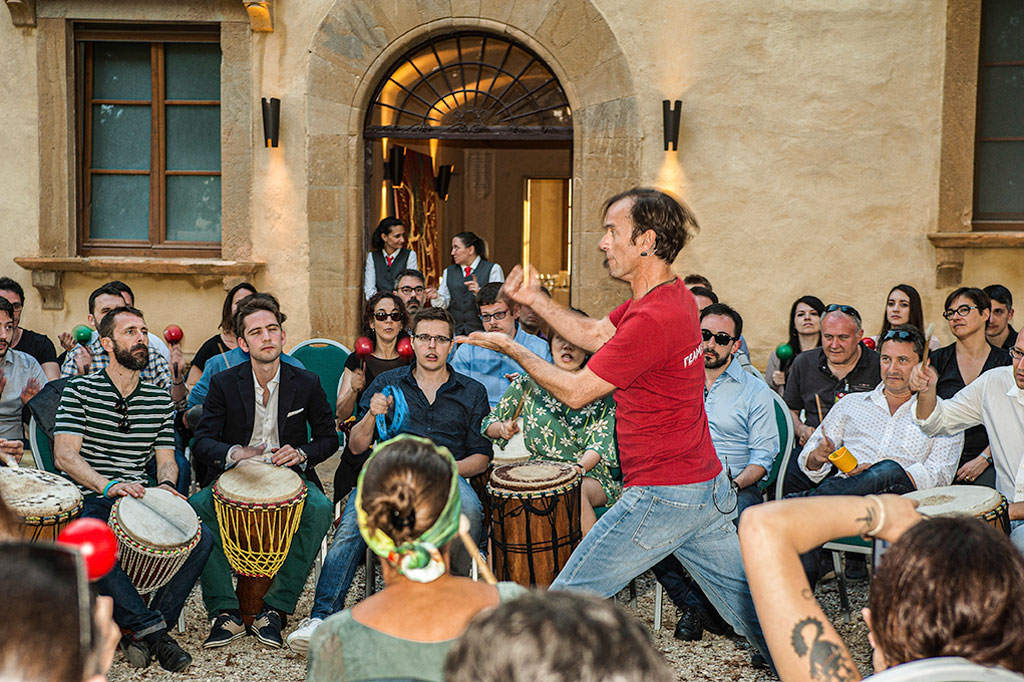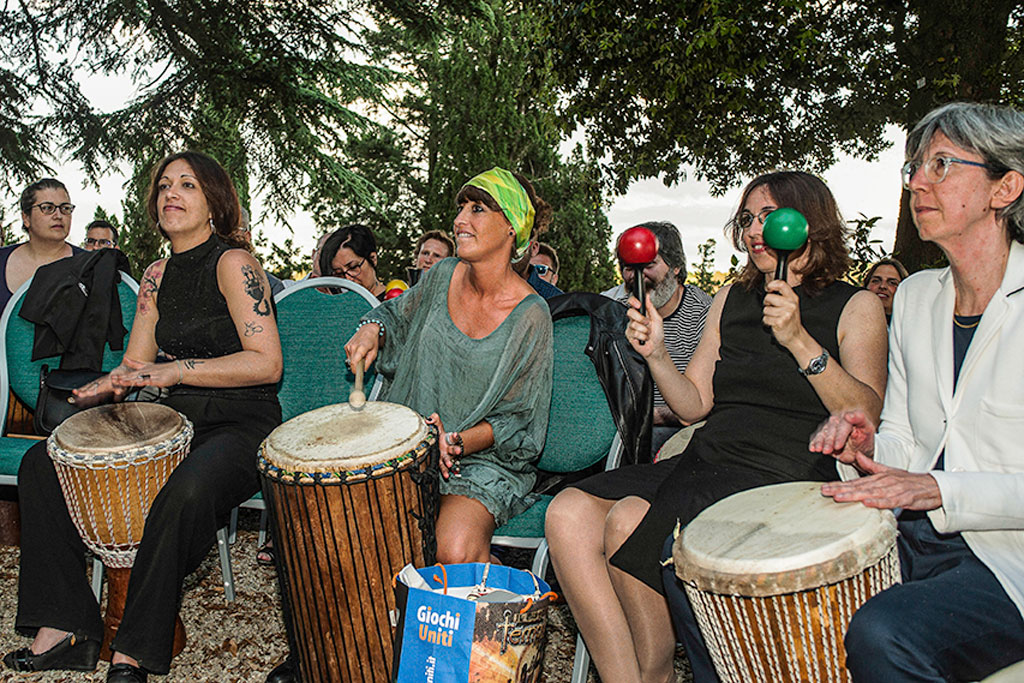 Finally, the ice-breaker with the Boomwhackers involving 1,500 Var Group employees.
With your hands clasped around your sound tube, you become a piece of a huge human orchestra.
Each colour represents a note and each of you, with your instrument, is an essential building block in building an amazing melody.
Participants are divided into sections and learn their specific roles.
Every movement is carefully orchestrated, every note played at just the right moment, creating a symphony of sound that spreads through the entire audience, creating magic.
This is how something memorable came to life: the RECORD of participants in a Boomwhackers activity: an unforgettable burst of energy that will remain in the hearts off all participants.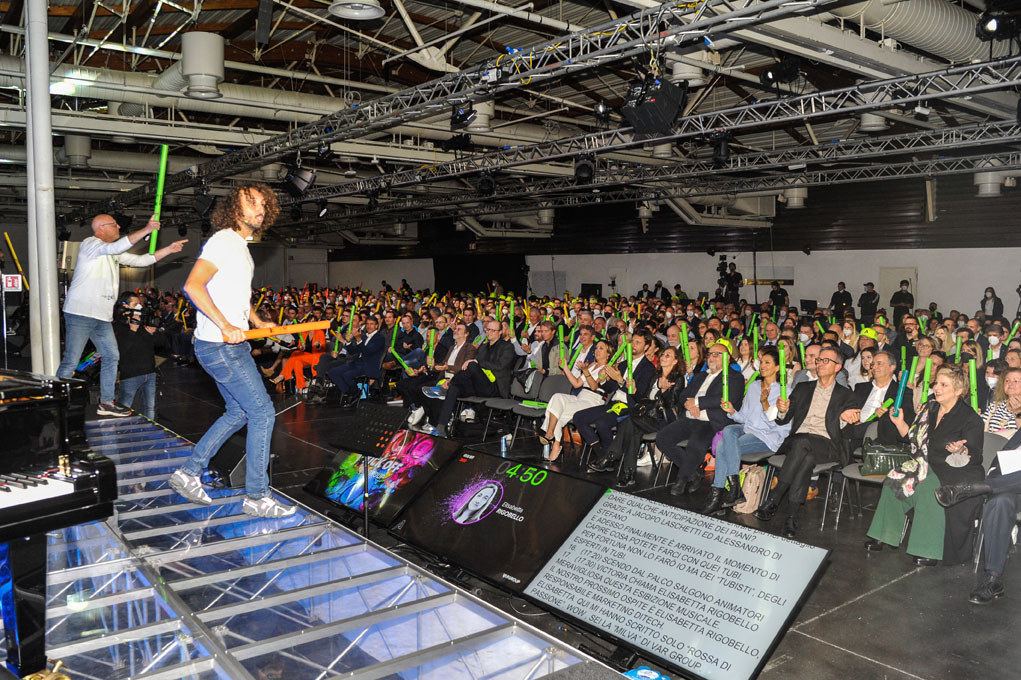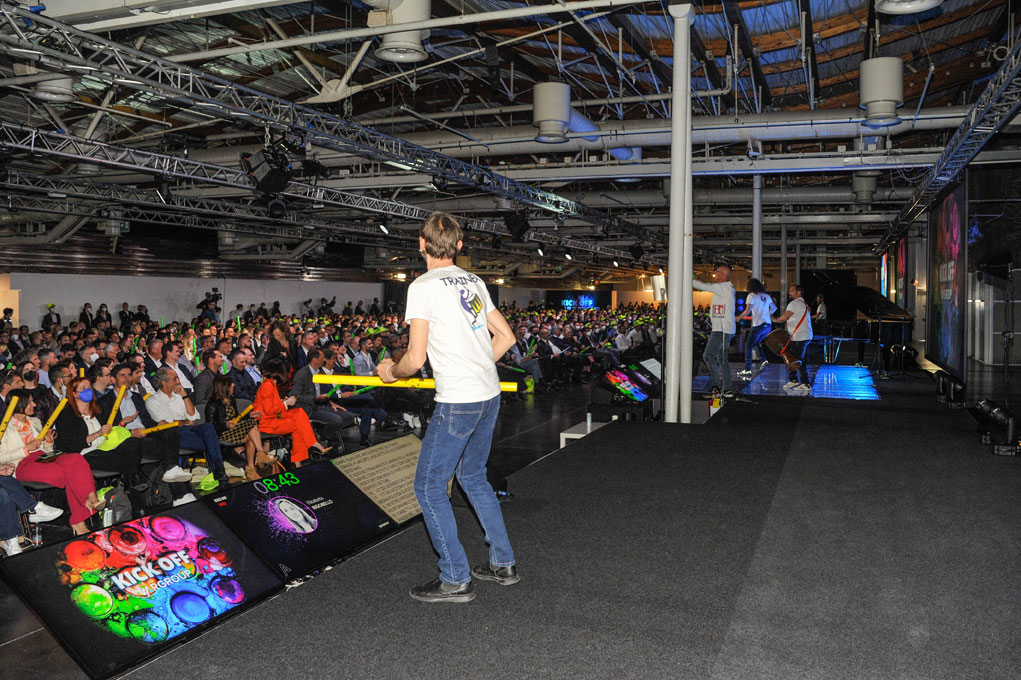 We are at your disposal to organise a team building activity in Florence.
CONTACT US: we are at your disposal for further information or for a free quote at info@onebeat.events