If you are looking to organise team building activities in Rome, you are in the right place!
Rome, our beautiful capital city, provides a unique and fascinating environment to organise team building activities.
With its iconic monuments and incomparable charm, Rome is the ideal place to create unforgettable team building experiences.
Team building activities in Rome offer a unique opportunity to immerse oneself in this extraordinary environment, using the city's history and beauty to create engaging experiences.
For these reasons, many local and international companies such as Jack Daniel's, Philipp Morris, Bristol-Myers-Squibb, BNL and Johnson & Johnson have chosen our musical team building, taking advantage of Rome's unique atmosphere.
Musical team building is like a symphony of human connections that unites the minds and hearts of individuals into a single melody of collaboration.
It is an exciting musical journey in which each group member becomes valuable to the orchestra's success.
Imagine being in a room full of people from different backgrounds, each one with a unique musical instrument and skill set.
These tools represent the individual skills and perspectives that each team member brings.
But in a real orchestra, the real magic happens when these instruments come together coordinated.
The conductor coordinates movements, synchronises rhythms and creates a space where each team member can shine.
Each one is like a musician, committed to playing their part as well as possible, but doing it well alone is not enough.
The real triumph occurs when the musicians listen to each other, adapt, complement and support each other in an intricate web of notes and rhythms.
The heart of musical team building is interaction, communication and mutual trust.
And as in any great musical performance, there are moments when individuals lose themselves in the music, forgetting themselves and embracing the collective experience.
In those moments, the team becomes more than just the sum of its parts.
It becomes a collective entity that transcends the boundaries of individual personalities and achieves a magical synergy.
But musical team building is not just an artistic exercise.
It is a vehicle for developing important teamwork skills: active listening, mutual respect, adaptability and the ability to work towards a common goal.
Through musical exploration, participants learn to overcome challenges, manage disagreements and find harmonious agreement.
So, it is time to start our story, where we will take you into the magical world of musical team building in Rome.
Let's start with the memorable event par excellence, the event where we set the RECORD still unbeaten in Italy.
The largest-ever Drum Circle in Italy involved 650 associates of SOLYDA, a financial brokerage group that wanted a unique and unforgettable event to launch their new brand.
You can enjoy the show in this video of the activity.
BNL involved us in the ice-breaker with the colours and notes of Boomwhackers for 500 employees during their kick-off.
Boomwhackers are coloured, tuned tubular musical instruments. Each coloured tube produces a different note depending on its length and colour.
They are ideal for creating songs or symphonies in a short time for large audiences.
Another important team building involved 50 BRISTOL-MYERS-SQUIBB managers in the Corporate Orchestra at the Sheraton Golf Hotel in Rome.

After the initial Body Percussion & Drum Circle phase, the group performed a Brazilian song after being divided into sections and learning their musical part.
It was an opportunity to celebrate the achievement of goals and, simultaneously, to develop human qualities such as listening to each other and more effective communication between colleagues.
We then carried out an incredibly far-reaching activity with 160 managers from all over the world of JANSSEN, a pharmaceutical company that is part of the Johnson & Johnson group.
Participants took part in an unforgettable musical experience through the Drum Circle and Boomwhackers.
We are sure that the following video can express what happened better than a thousand words.
Next, we headed to the centre of Rome for a team building session with a company that needs no introduction: JACK DANIEL'S.
We realised a Corporate Orchestra for 60 top managers from all over Europe.
The aim was to get to know better and integrate a European team that occasionally meets in person.
In addition, we performed the Drum Circle for:
100 managers from all over the world of ZEBRA, a leading technology company.
140 employees of OMEGA CHEFARO, a Rome-based pharmaceutical company.
Now it was time for another treat, the team building in a unique Rome park: Villa Borghese.
I'm talking about the Drum Circle & Corporate Jingle with 80 managers from the Middle East of the famous pharmaceutical company ELI LILLY.
Here is the video of a unique experience, discovering Arabic rhythms and melodies that transmuted into energy, sharing and involvement.
Now it is the turn of a team building at the Sofitel Hotel, right in the centre of Rome, for 25 managers of another world-renowned multinational: PHILIP MORRIS.
The participants demonstrated remarkable rhythmic skills by being able to keep in time right from the start, creating more and more excellent musical dialogues within the Drum Circle.
We achieved high performance levels due to the training content, which stimulated the group to listen to each other and consequently led to a high level of synchronicity among the team members.
To end on a high note, there was no shortage of Corporate Jingle, in which the group was divided into two sections that separately created a song in one hour, which was then performed in front of the other team.

Finally, we close this roundup of activities in Rome with the most classic of Christmas team building.
A Drum Circle & Corporate Jingle for 30 EON sales managers, a leading energy company.
The experience made the group aware of important principles such as listening, empathy, leadership and respect for roles.
This, of course, within a framework of fun and joy.
Here are a few pictures of the activity.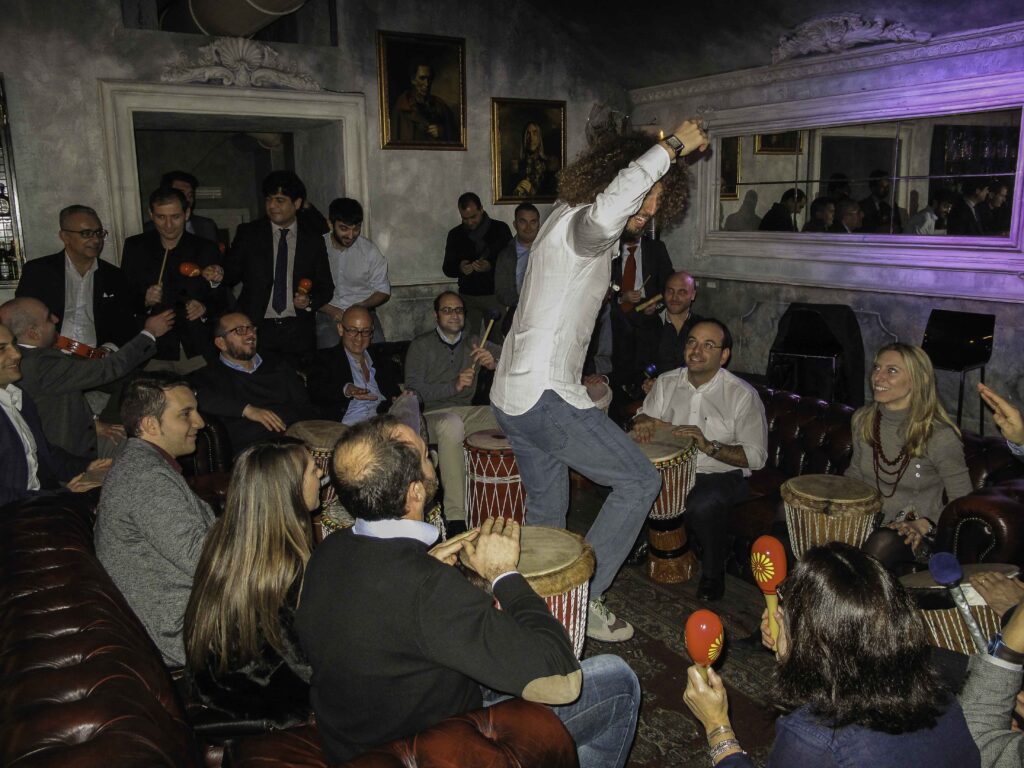 We are of course at your disposal to organise a team building activity in Rome.
CONTACT US: we are at your disposal for further information or for a free quote at info@onebeat.events