Milan, a leading city for team building, attracts many companies and corporations looking for engaging activities to strengthen group cohesion.
Musical team building offers a unique experience that fosters collaboration and communication through the magic of music.
Musical team building is also a popular choice for the many successful companies based in Milan.
Thanks to its strategic location, Milan offers an ideal environment for organising engaging and stimulating team building activities.
Musical team building activities aim to create a sense of belonging and team spirit within a group.
Collective musical performance teaches participants how to listen to each other, coordinate and work together to achieve a common goal.
Effective communication is encouraged through active listening, interpretation and musical expression, which represent a universal language that overcomes cultural and language barriers.
Musical team building also offers the opportunity to develop important individual skills.
Each group member has a specific role within the musical ensemble that stimulates them to gain confidence in their abilities.
Music has a positive effect on stress and emotional well-being.
During musical team building activities, participants can experience the pleasure of making music together in a safe and fun environment, reducing stress and promoting a positive mindset.
Finally, the shared musical experience helps group members manage conflicts and face challenges collaboratively and positively.
This is why renowned companies such as Coca-Cola, Volkswagen, Renault Trucks, AstraZeneca, Nexive and Oracle have chosen musical team building in Milan to empower their teams at the following corporate events.
So let's start with our story!
The first task was requested by Renault Trucks, which needed to energise its team of 60 employees in a short time.
We took up the challenge by proposing the Corporate Orchestra as the final part of the meeting, thus quickly creating a coordinated rhythmic orchestra.

Here is the feedback from Laura Vavassori, Marketing Manager @ Renault Trucks:
"I wanted to thank you on behalf of all Renault Trucks!
The feedback we got was very positive, we liked the activity and we also liked the fact that you 'GIVEN A SENSE TO THINGS' by adapting what you were doing to the reality of the company.
I also bring you the appreciation of Lo Bianco, CEO of Renault Trucks Italy."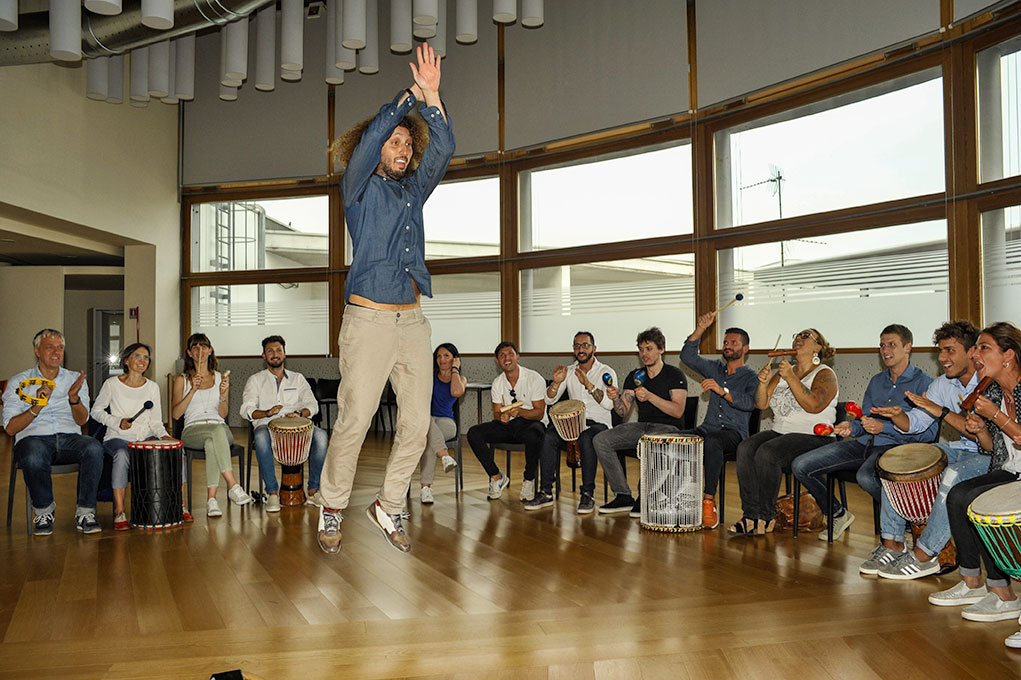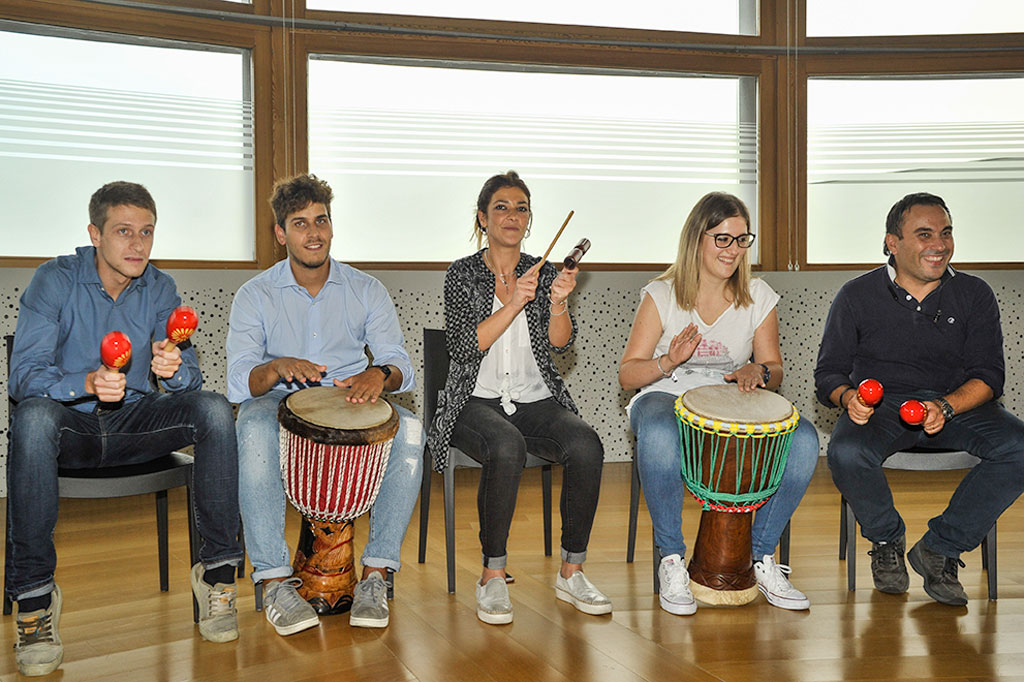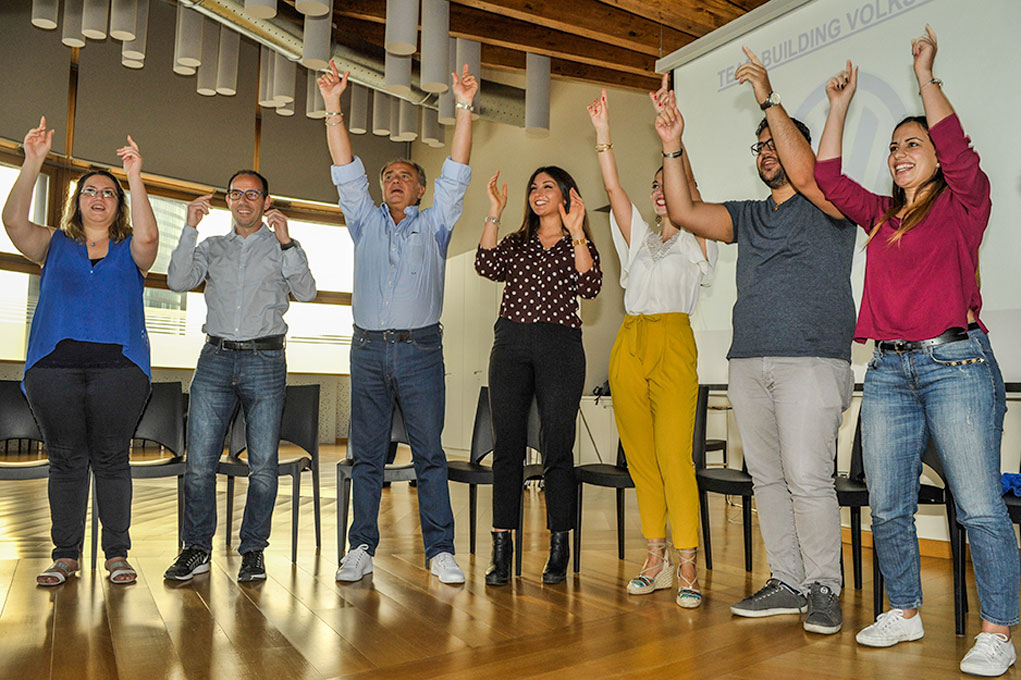 The pictures you have just seen demonstrate the energy unleashed at the team building in Milan involving 40 Wolkswagen employees.
Body Percussion, Drum Circle & Corporate Jingle for 3 hours dedicated to create positivity and empathy, while at the same time having the opportunity to learn new keys for better team functioning.

We don't just want to tell you about events with big car manufacturers, but also other team building events with large audiences, such as the following one at the East End Studios in Milan.
I'm referring to the activity with Body Percussion, Drum Circle & Corporate Orchestra with 200 employees of Nexive, a leading postal company.
Here is the feedback from Luca Palermo, CEO of Nexive, which speaks more than a thousand words:
"Thanks to the Onebeat team we did something wonderful, proving that we can dream a single rhythm to achieve great results.
And we did it fast!
With different instruments we tackled complexities unknown until then, doing something incredible: we created an orchestra and had fun!
This was the experiential demonstration of what we went through in the meeting: by putting ourselves on the line, not being afraid of difficulties, knowing how to have fun together and working for great results, we showed that we can do great things because we are an exceptional team.
Thanks to Dharma and his team."
Below is a video of the activity demonstrating the explosion of energy and positivity that was shared on this wonderful day.
In the centre of Milan the ice-breaker with 300 employees from all over Europe of Coca-Cola.
The purpose of an activity with Boomwhackers is to break the ice quickly and encourage interaction between the participants, creating a more relaxed environment and facilitating positive relationships within the group.
Boomwhackers are coloured plastic tubes that, when struck, produce melodic sounds and are used to create rhythmic harmonies in a fun and engaging way.
Here is the video of the activity where we performed Twist & Shout.
Now it is the time to talk about another special event: the ROCK-TRIBE BAND that made unforgettable the convention of Boehringer Inghelheim, an internationally renowned pharmaceutical company.
At the East End Studios in Milan, more than 400 employees from all over Italy were involved in an experience that went beyond a classic team building activity.
The customised training show that aims to clearly and creatively convey the communicative message proposed in the meeting.
The activity is an overwhelming mix of rock music and the tribal rhythm of drums in which we perform not just any song, but a composition created and conceived for the meeting.
So the participants find themselves playing drums and percussion, while singing a completely original lyrics, accompanied by the melodic and overwhelming sound of the electric guitar.
The video of this event certainly explains it better than our words.
Then, we moved to the Teatro del Verme in Milan for another impressive team building with AstraZeneca, another famous pharmaceutical corporation.
During the annual kick-off, we made a 30 minute ice-breaker for 700 employees with the melodies and colours of the Boomwhackers.
Afterwards, we headed to Wella's Milan headquarters for some overwhelming team building activities with the Rock-Tribe Band.
It is a famous leading cosmetics and hair style company that wanted to involve and motivate 200 partners from all over Italy.

To end this round-up of team building in Milan on a high note, we energised 300 managers from various companies with Boomwhackers at the convention organised by Oracle, a leading technology company.
With the aim of creating an unforgettable atmosphere, we created rhythmic symphonies through games which that emphasise the value of individual sections in the final result of the whole orchestra.
We produced 'We Will Rock You' at the end of the activity with the winning mix of sound tubes and singing.
Still wondering why I should organise a musical team building activity in Milan?
Discover in this video a glimpse of the emotions we experience during our activities.
We are the leading agency in Milan and Italy for musical team building activities and musical shows for large audiences at conventions, meetings, incentives, roadshows, congresses, galas, fairs and festivals.
CONTACT US: we are at your disposal for further information or for a free quote at info@onebeat.events