Team building in Naples offers a unique and engaging experience for companies wishing to enhance collaboration, communication and group cohesion.
With its charm and contagious energy, Naples is the ideal setting for an unforgettable team building activity.
This is why major companies and corporations such as Unipol Sai, Booking.com, Abbott, Europcar, Bioviix and Obicà, have chosen our wide range of team building through music and rhythm for their corporate events in Naples.
Musical team building offers a unique experience, where sounds become the glue that unites hearts and minds.
It is an enchanting journey, a symphony of collaboration and creativity that unfolds through the universal power of music.
Imagine being in a vibrant environment, surrounded by colleagues who become fellow adventurers in the discovery of music as a tool for deep connection.
Through the sound of different instruments, a unique harmony is created that resonates in the soul of each participant, opening the door to authentic communication and mutual trust.
In this immersive experience, barriers dissolve as notes rise into the air.
A space is created where individuality merges with the ensemble, where active listening and empathy become the group's lifeblood.
Each member contributes their own uniqueness, creating a unique musical fabric that reflects the strength of diversity and the beauty of collaboration.
Musical team building offers fertile ground for personal and professional development.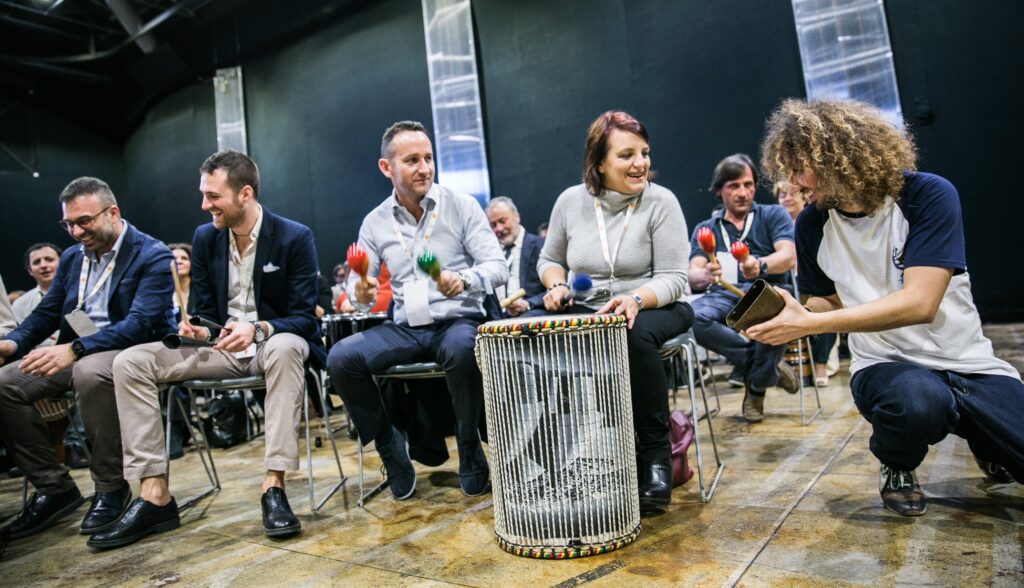 Through shared music creation, skills such as leadership, adaptability and stress management are developed.
Musical challenges become opportunities to overcome obstacles together, to embrace improvisation and find creative solutions.
One learns to listen carefully, express oneself without words and create an inclusive environment where every voice is valued.
But musical team building is much more than just a group activity.
It is an experience that leaves a lasting impression, a collective memory that turns into deep bonds.
Music becomes the red thread that binds people, crossing cultural, linguistic and generational boundaries.
Musical team building is a transformative experience where music becomes the alphabet of the soul.
It is an invitation to discover each individual's unique potential and celebrate the power of collaboration.
A bridge is built to group cohesion, effective communication, and mutual inspiration through melody and rhythm.
It is an experience that goes beyond words, because music speaks directly to the heart and leaves an indelible impression.

Let's move on to the story of our team building activities in Naples.
The notes and melodies of the Boomwhackers were the stars of the team building event that involved 500 UNIPOL SAI agents at the Naples Convention Centre for the end-of-year convention as part of the 'UnipolSai Starnight' communication project.
To reward the agents and create an unforgettable atmosphere, we played rhythmic symphonies through games highlighting the value of individuals in the final group result.
Finally, to end on a high note, we performed Queen's 'We Will Rock You' with customised lyrics that represented the concept of the meeting, which was to be protagonists of change.
In this case, the participants played the chords of the song, while singing the new customised lyrics for an unforgettable burst of energy.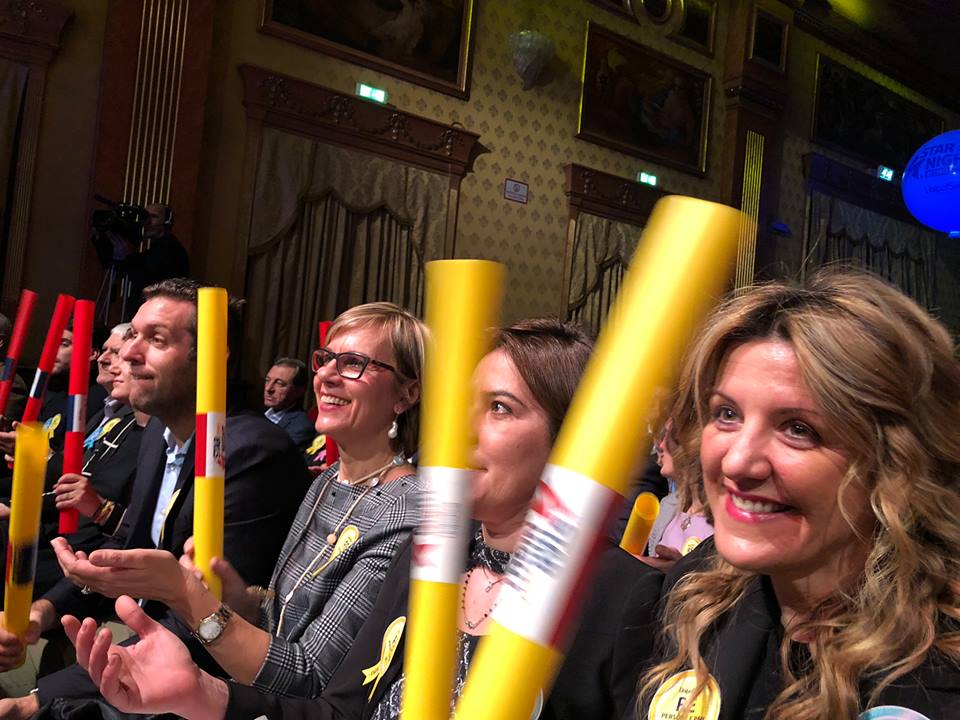 Afterwards, hosted in the beautiful setting of the Royal Continental Hotel in Naples, right in front of Castel dell'Ovo, we performed an exciting team building with drums and percussion.
We performed our innovative Drum Circle for 90 managers from all over Italy of EUROPCAR, a leading car and van rental company.
The Drum Circle is a group activity involving the use of drums and percussion instruments.
People gather in a circle and play together, creating spontaneous rhythms and melodies.
This practice promotes collaboration, creativity and connection between participants, providing an engaging and fun experience.
In fact, the innovative methodology has enabled us to become the benchmark in Italy for musical team building activities.
This is why ABBOTT and BOOKING.COM asked us to use the Drum Circle for team building, involving 100 and 15 employees of their Naples branches respectively.
A few months ago, we were invited to the headquarters of BIOVIIX, a leading pharmaceutical company in Naples in the field of rare diseases, for which we carried out a team building training.
We involved 20 managers in the Drum Circle & Corporate Jingle, according to specific objectives dear to the company.
Finally, we repeated the same activity for 40 OBICA managers, a leading catering company.
To sum up, we provide team building, experiential training and ice-breaker activities for large audiences at conventions, meetings, conferences, corporate dinners and galas.
Below is our short video presentation to find out more about our offers.
Here are the most common examples for which team building is required in Naples:
Teamwork: we create team building experiences to establish, develop and consolidate successful teams.
Leadership: we offer training programmes to develop leadership qualities and improve human resources management.
Conventions, Congresses & Meetings: we provide team building activities to energise participants, foster team spirit and increase motivation during conventions, congresses and meetings.
Incentives: we organise team building experiences to inaugurate and motivate the launch of new projects and corporate strategies.
Change Management: we facilitate organisational change through targeted team building activities.
Effective Communication: we promote listening and improve interpersonal relationships through team-building programmes focusing on effective communication.
Company Parties & Award Trips: we create fun and engaging team building experiences to celebrate anniversaries and achieving goals, both during company parties and award trips.

We are at your disposal to organize a team building activity in Naples.
CONTACT US: we are at your disposal for further information or for a free quote at info@onebeat.events