Team building events on Lake Garda always have a unique and special charm, thanks to fantastic areas such as Desenzano del Garda, Bardolino, Peschiera del Garda, Sirmione and Lazise.
Many companies and corporationss choose Lake Garda to carry out team building activities to strengthen their work teams according to specific training objectives.
Indeed, major companies such as PAYPAL, CALZEDONIA, MAUI JIM and HOYA chose our innovative musical team building to crown their conventions with exciting activities in the unique setting of Lake Garda.
Musical team building encourages collaboration and communication within a group. Here are some elements that make it a unique experience:
Exploration of creativity: music is a powerful medium for expressing creativity and promoting innovation. Musical team building offers the opportunity to explore and develop individual and group creativity through musical instruments, composition and improvisation.
Collaboration and synchronisation: playing together requires strong collaboration and synchronisation between team members. By learning pieces of music or creating original rhythms and melodies, participants learn to work together, listen to each other, respect roles and coordinate actions to achieve a common goal.
Non-verbal communication: music can convey emotions and messages without words. Through musical team building, participants learn to communicate non-verbally, developing the ability to actively listen and respond to musical signals from other group members.
Personal and group challenge: learning to play a musical instrument or perform in an ensemble requires commitment and perseverance. Musical team building offers a personal and group challenge that helps to overcome comfort zones, overcome obstacles and develop confidence in oneself and others.
Emotional involvement: music has the power to engage people emotionally. During musical team building, participants can experience various emotions, creating a deeper bond between team members and encouraging mutual trust and empathy.
Final performance: a musical team building can culminate in a final performance in which the group performs in front of an audience. This moment of sharing and celebrating one's achievements can be extremely rewarding and strengthen the team's sense of belonging and success.
We start with our tale of musical team building on Lake Garda.
The first event worth mentioning is the Drum Circle & Corporate Jingle that involved 20 employees and agents of PAYPAL, a well-known American multinational that needs no introduction.
The formative aim of the activity was to improve the team's connection and collaboration by transferring important individual and relational qualities such as listening to each other and getting involved in new experiences with openness to change.
Here is the feedback from Serena Tiziana Ferraro: Administration Manager @ PayPal:
"Cristiano is an incredible teacher and moderator who can involve the whole group. He works in a dynamic and fun way.
His passion for music is contagious. His way of putting himself in the corporate context makes team building bring people together and collaborate.
An experience absolutely to be repeated."
Then, we realised a Corporate Orchestra for 140 employees from Poland of CALZEDONIA, a company that is a world leader in the clothing industry.
Through the magic of music and the power of rhythm, we energised their incentive trip to create a unique and unforgettable emotional moment that could be at the same time an opportunity to experience the motto 'Unity is strength'.

But here we come to the most playful and entertaining team building of this trip to Lake Garda, namely the Corporate Jingle involving 60 employees of the Veterinary Hospital I Portoni Rossi.
Let's start right away with some photos of the activity.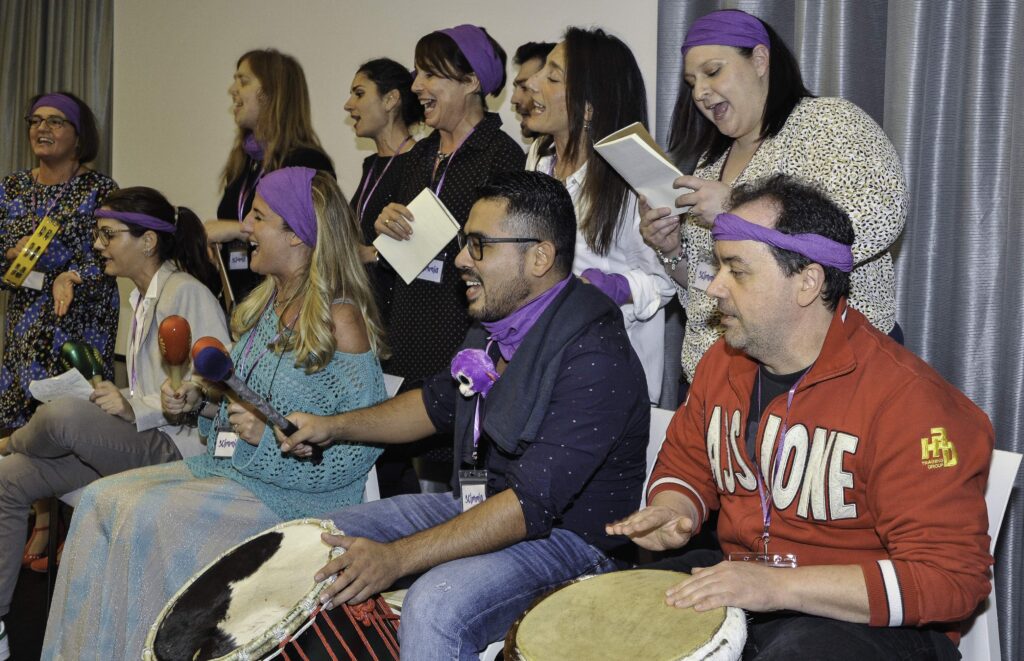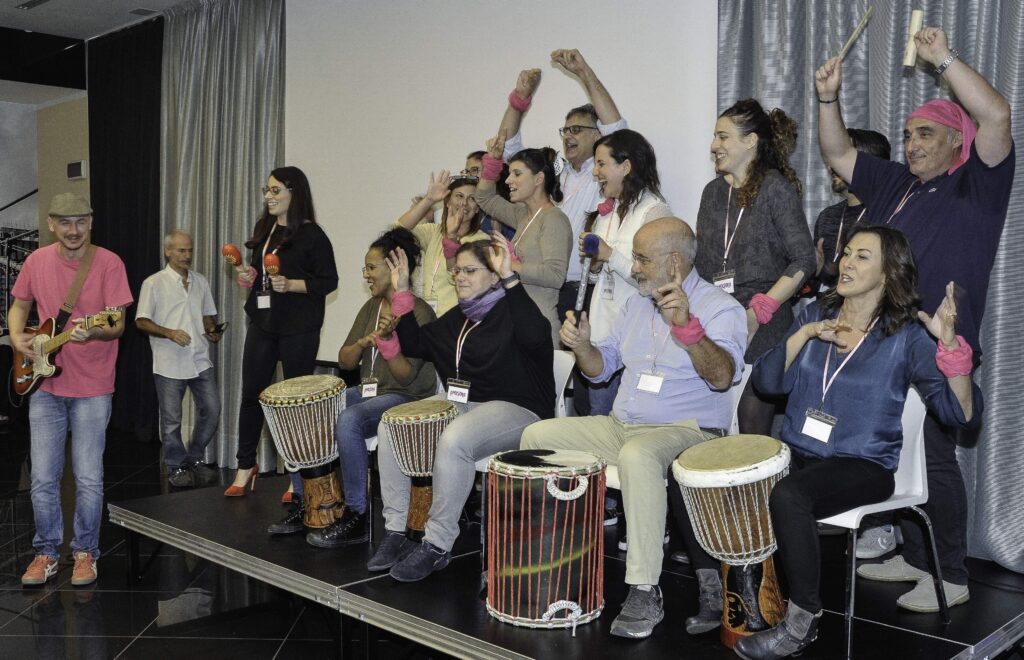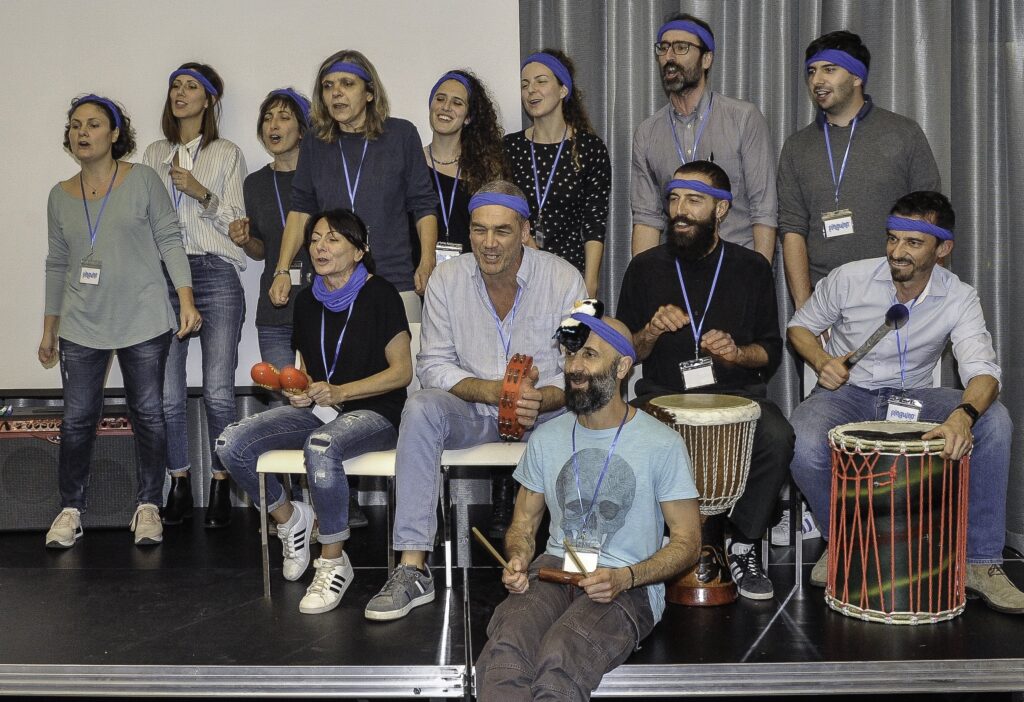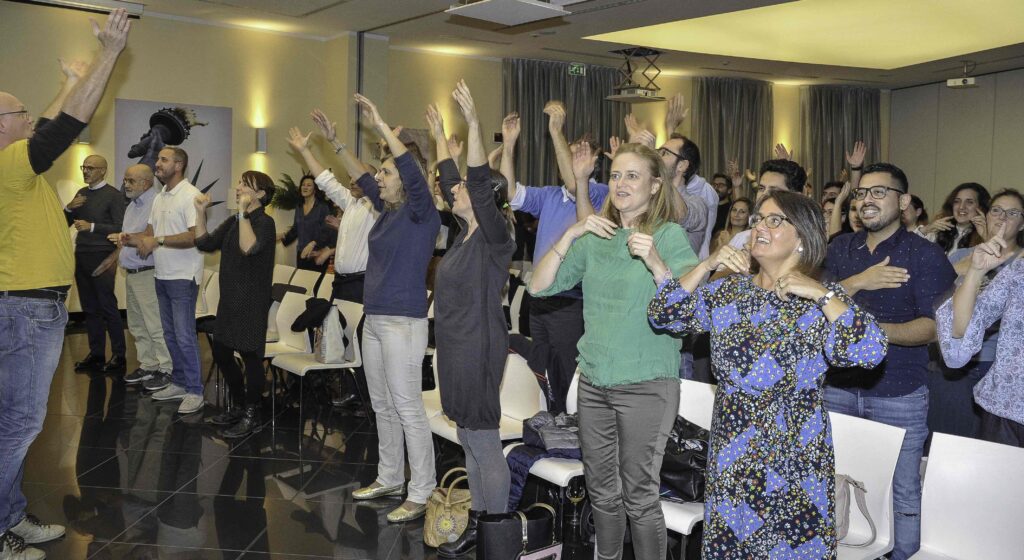 We started with a warm-up in Body Music to break the ice in good spirits, immediately creating a 3-section orchestra that performed Queen's world-famous song 'We Will Rock You'.
Following this, the participants, divided into teams, chose a famous song to change the original lyrics, creating an entirely new one that reflected their working reality in a funny way.
But it didn't end there! In addition to the harmonic support of our guitarist, the participants also had to create the rhythmic accompaniment of the songs by playing drums and various percussions.
Here is the final result in this video.
But we did not stop at this great success; our team building on Lake Garda continued!
As fate would have it, precisely two corporations in the eyewear manufacturing market chose us within a very short period to strengthen their teams through Experiential Training.
I am talking about HOYA and MAUI JIM who decided to involve 30 and 40 employees respectively through the Drum Circle to improve collaboration between team members while developing important leadership qualities.
It was an opportunity to end this autumn team building tour in style in the unique setting of Lake Garda!

CONTACT US: we are at your disposal for further information or for a free quote at info@onebeat.events