Bologna is an ideal choice for team building because it is rich in history, culture and art.
The city of Bologna offers a fascinating and inspiring environment that leads people to open up to team building activities that can improve group functioning creatively.
In fact, major corporations such as Office Depot, Saint-Gobain, Crif, Chiesi Farmaceutici and Gruppo Hera have chosen our innovative musical team building activities to develop their human resources.
Let's tune in to an extraordinary team building experience, where sound becomes the common thread that brings people together in unique harmony.
Imagine opening the door of a music laboratory, ready to explore the hidden potential of your team.
Traditional group dynamics are transformed into a symphony of creative interactions in the fascinating world of musical team building.
The musical team building score is written with notes of communication, mutual trust and cooperation.
The conductor guides each musician to express his or her potential, give the best of himself or herself, and integrate harmoniously with others.
But musical team building goes beyond just sound creation.
It is a journey of deep listening, in which each team member learns to tune in to the others, pick up on nuances and respond sensitively to the variations of the moment.
It is an experience that teaches the art of empathy and collaboration, where every note contributes to collective harmony.
Boundaries dissolve, leaving room for a synergy in which everyone is free to express their voice.
This extraordinary experience transforms your team into a unique orchestra.

The time has come to tell about our musical team building activities in Bologna.
The first team building, which took place in the centre of Bologna, involved 500 employees of CRIF, a leading company in the credit information systems sector.
The large audience tried their hand at a performance of 'We Will Rock You' with Body Music, ending on a high note with the colours and melodies of the Boomwhackers.
It was an energising and engaging way to create team spirit quicklywith a large audience, thus bringing the annual meeting to a close and celebrating Christmas with colleagues.
Here are the videos of the performances that speak more than a thousand words.
A few weeks later, we did some important team building in Bologna for CHIESI Farmaceutici.
In the same format, 350 managers from all over the world were involved in the convention that was aimed at launching a new product.
Here is the feedback from Maria Conte, Event Manager @ Chiesi:
"You did great!
Everyone enjoyed the activity with body percussion and boomwhackers and the level of enjoyment and involvement was really high.
So, a heartfelt THANK YOU to you and your band for handling the 'brain toning' session so well!"
Then it was the turn of the Corporate Orchestra to energise the convention involving 150 employees of SAINT-GOBAIN WEBER, a leading company in the markets of construction, production and distribution of new generations of building materials.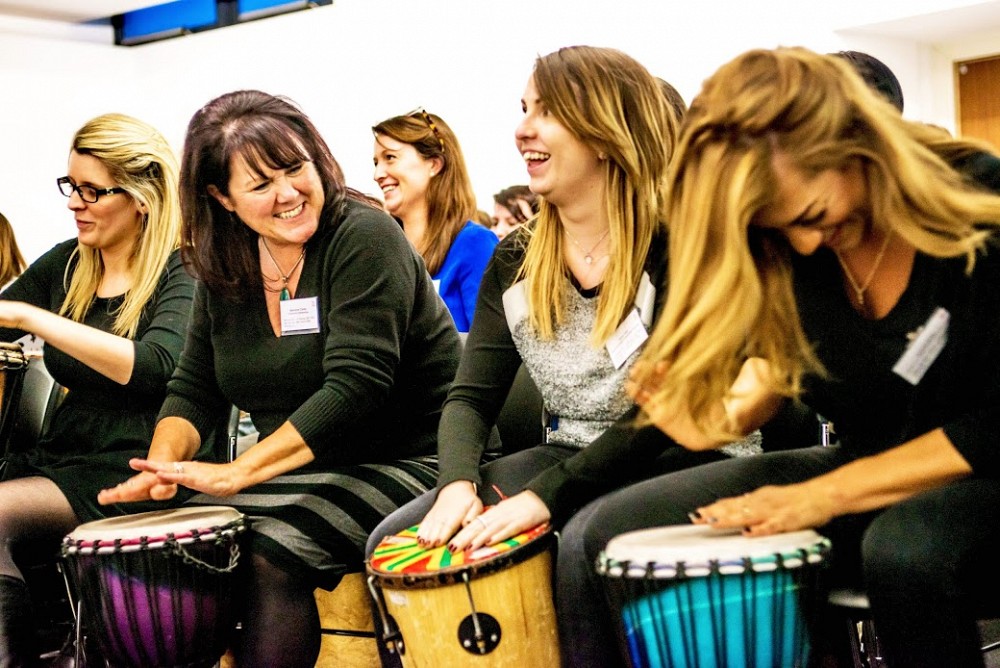 Below is the feedback from Roberto Valle – Sales Director @ Saint-Gobain Weber:
"During a sales convention in Bologna with the sales network, in which all employees would also participate, there was a need to organise a playful moment that was both fun and team building.
Thanks to OneBeat and Cristiano, who masterfully managed everything, we managed to involve, as I have rarely seen, everyone present in a very active and fun way.
Good work."
Near Bologna, in the hills of Sasso Marconi, we realised a team building with Drum Circle & Corporate Jingle for 15 top managers of GRUPPO HERA, a famous multi-utility operating in Emilia-Romagna.
This training activity aimed to develop leadership skills that would help the team work more efficiently and with more effective communication.
Finally, the Drum Circle with drums and percussion that involved 150 employees of OFFICE DEPOT, a leading company in office products.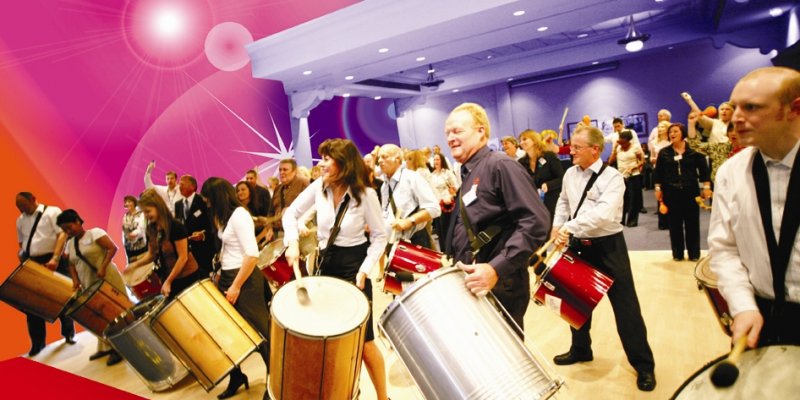 Here is the feedback from Silvia Ottelli, Sales Manager @ Office Depot:
"I had the pleasure of meeting Cristiano Botti in Bologna during a team-building of our company convention.
He was entrusted with the hard task of closing an exciting three-day event.
We were immediately captivated by his enthusiasm and engaging energy! It was a truly engaging and fun activity.
Very significant for me was the handover of the baton to our CEO, who took over from Cristiano and conducted the entire staff like an orchestra.
Exciting!"

We are at your disposal to organise a musical team building activity in Bologna.
CONTACT US: we are at your disposal for further information or for a free quote at info@onebeat.events