Lake Como is the perfect setting for a musical team building activity.
This is why major companies and corporations such as Amazon, Coca-Cola and Cisco System have chosen Lake Como to do musical team building activities for their employees according to specific goals.
Musical team building is a vibrant experience that unites people's rhythms and notes in a crescendo of harmony and collaboration.
Imagine a human orchestra composed of individuals with different backgrounds who bring their unique talents.
Like an orchestra conductor, the musical team building facilitator leads this diverse ensemble through an exciting musical journey.
Like a musical note, each participant contributes their distinctive talent and personality to the sound mosaic.
Voices blend, percussion pulses and melodies intertwine, creating a sound experience that goes beyond words.
But musical team building is not just about music.
Through the art of sound, people learn important lessons about collaboration, active listening and empathy.
Participants learn to tune in to each other, grasp the nuances of each other's musical expressions, and respond with insight and coherence.
The rhythmic and melodic interplay creates a space in which individual differences merge into a single symphony of teamwork.
So, you embrace the spirit of musical team building and let the team play in unison because, as Friedrich Nietzsche said: "Without music, life would be a mistake."

Let's start now with the story of musical team building on Lake Como.
The Drum Circle, our new methodology that allows you to experience the metaphor of the orchestra in a completely new way, is the most popular team building activity on Lake Como.
By creating music at the moment with drums and percussion, cooperation and synergy between team members spontaneously arise.
So AMAZON, chose us for an activity with the Drum Circle & Corporate Jingle.
The aim was to unite and engage 60 international managers as the high-impact conclusion to their three-day convention.
After understanding the dynamics of the orchestra in the first group part, the participants were divided into groups and given an hour to create a lyric that sympathetically reflected their working reality, adapting it to a famous song.
Here are a couple of photos.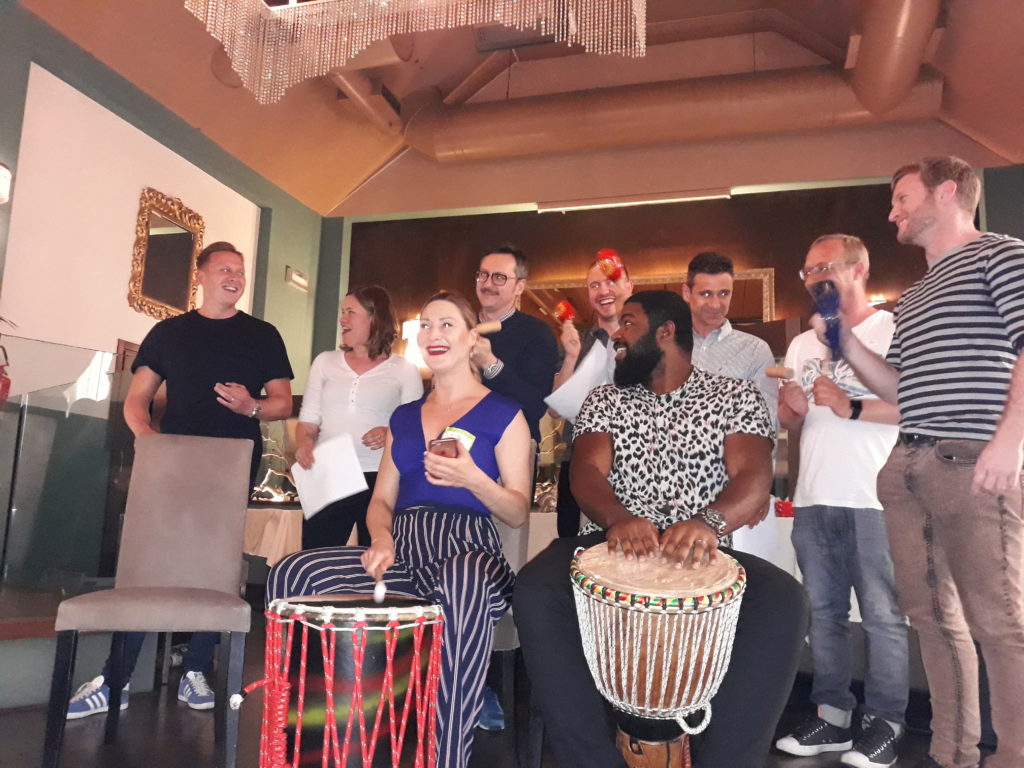 Also on Lake Como, we held the same type of team building for 15 managers of CISCO SYSTEM, a leading supplier of networking equipment.
It was an experiential training intervention where we addressed topics dear to the client, such as listening to each other, creativity and strengthening team spirit.
At the famous Castello di Casiglio in Erba, we involved in a Drum Circle 60 employees of XY, a leading Swiss company in the market for financial technologies for property owners.
Here is a souvenir photo of the team after the event.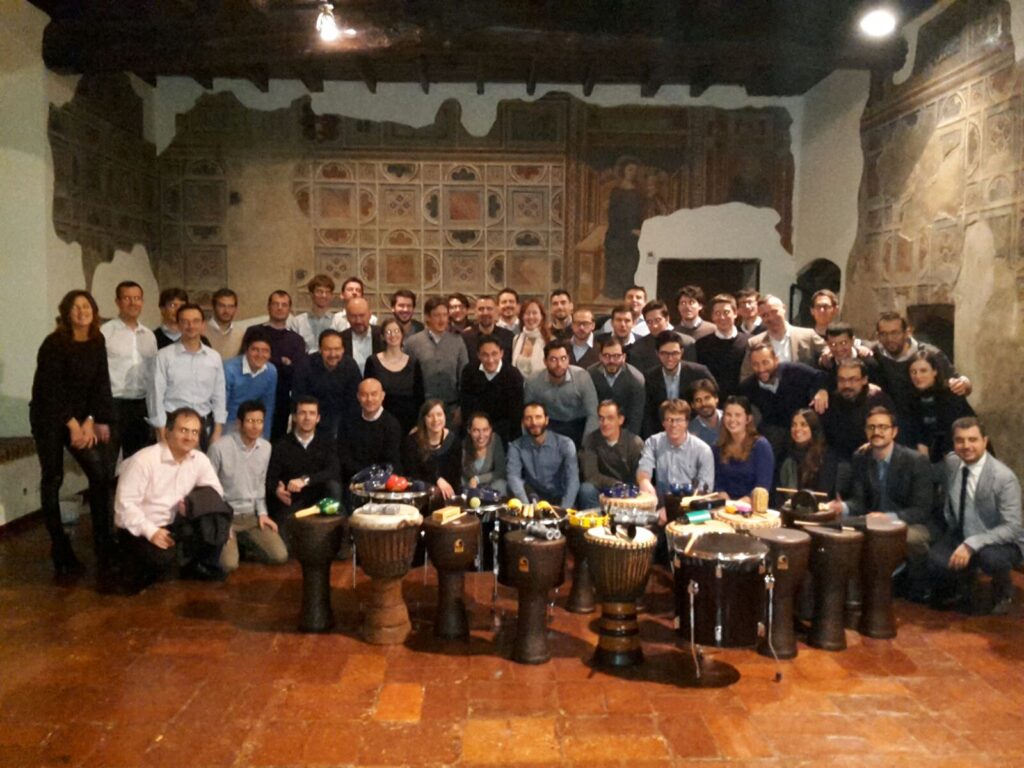 Now here is the biggest event of this series, the Corporate Orchestra involving 350 employees of the ROVEDA1955 shoe factory.
A lot of energy and positivity was shared during this activity, which ended with a Brazilian samba-reggae performance in which the participants went wild.
How not to mention the Drum Circle & Corporate Jingle for 25 managers of INVIDIOR, a leading pharmaceutical company in research and development to combat addiction.
It was an exciting activity aimed at getting to know better a team that one rarely meets in person.
Finally, we moved to the centre of Como for team-building with the Drum Circle involving 80 COCA-COLA managers.
Here, in addition to a lot of energy and fun, participants were able to directly experience how the individual's contribution has a fundamental effect on the orchestration of the whole group.
Finally, some volunteers had the opportunity to become conductors, thus developing important leadership qualities.

We are at your disposal to organise a musical team building activity on Lake Como.
CONTACT US: we are at your disposal for further information or for a free quote at info@onebeat.events