Genoa and other locations in Liguria are ideal places to organise team building activities at your corporate event.
Major companies such as AMC, RINA and GNV chose our innovative musical team building activities to energise their conventions in the beautiful setting of Gevona.
Are you ready for an extraordinary musical team building that will unite people's hearts and minds into one symphony of collaboration?
Imagine stepping through a mysterious door, hidden beyond the confines of the everyday world.
You will immerse yourself in a creative experience that challenges the boundaries of traditional team dynamics.
Your hands clasp a musical instrument, ready to express emotions that cannot be encapsulated in words.
You join other fellow travellers, each with their own story and their own way of seeing the world.
Together, you begin a sound journey that will take you into the unknown.
There are no scores or rigid rules, just the freedom to explore the depths of your musical creativity.
The rhythm of the drum shakes the foundations of your connection, uniting you in a common beat.
But it's not just a matter of playing, busical team building goes beyond that.
You will learn to connect with others on a deeper level through active listening and non-verbal communication.
You let your emotions guide you, allowing the music to transport you to unexplored places, breaking down the barriers that separate people.
Your creativity will mix with innovation, resulting in new tunes that challenge convention.
Musical team building is a springboard for imagination and a laboratory for limitless expression.
And as your musical journey reaches its climax, you can share your creations.
A unique concert, where your music becomes a testimony to the unity and collaboration you have achieved.
Let's start with the story of musical team building in Genoa.
AMC, the world's leading manufacturer of high quality stainless steel cooking systems, chose us to engage around 250 sales managers from all over Italy.
During the first day of the convention in Genoa, we created a short team building moment with the notes and melodies of the Boowmahckers to energise the audience and create a positive atmosphere.
It was an opportunity to celebrate the achievement of results and motivate the participants to launch new goals.
On the following day, we conducted an experiential training with a Drum Circle intervention for 35 regional area leaders.
The aim was to create leadership training that emphasised how creating an environment of trust and mutual listening inevitably leads the team to increase their results.
Here is the feedback from Snezana Kiki Stojanovic – Head of Marketing @ AMC International:
"I worked with OneBeat on the occasion of a management meeting with 250 people, where they were asked to perform the Boomwhackers activity and then the Drum Circle activity with a smaller group of Area Managers and Area Sales Managers.
Cristiano handled everything with great professionalism and conveyed great energy to our managers.
It was a wonderful experience that made a huge impression on our sales network and created a lot of involvement.
Good job!"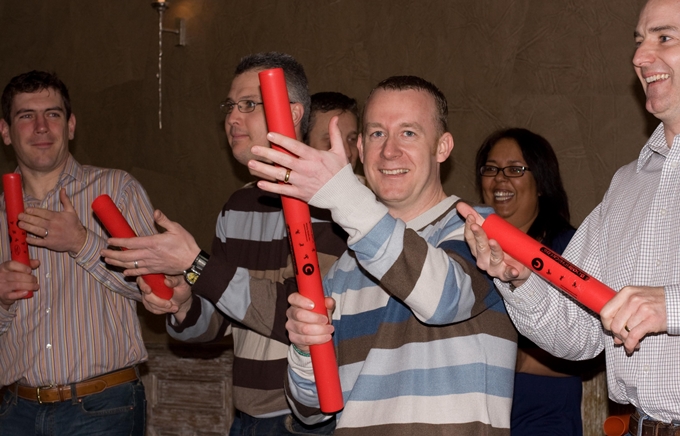 Leaving Genoa, we moved to the Excelsior Palace Hotel in Rapallo where we did a team building with the Drum Circle for 50 people.
The beneficiaries were the stand attendants and companies present at the FULL CONTACT FAIR, who were able to celebrate the closing of the proceedings in an energising manner.
Again with the Drum Circle, we performed three interventions for about 160 employees of RINA, a major company in the shipping industry.
Through the magic of music and the power of rhythm, we created an unforgettable moment to experience how unity is strength.
Here is feedback from Fabio Stefanutti: Head of D&IT Strategy @ RINA:
"Cristiano and his team create an engaging atmosphere and make you part of a unique immersive experience.
They convey positive feelings to the team.
You can feel part of a 'band on stage' and collaborate with your colleagues like in an orchestra. Bravo and thank you!"
Finally, a team building activity in Genoa with the Drum Circle & Corporate Jingle involving the 15 area directors of GNV, Grandi Navi Veloci.
The training objective of the activity was to enhance connection and collaboration within the team, transferring important individual and relational qualities such as listening to each other and developing important leadership qualities.

We are at your disposal to organise a musical team building activity in Genoa.
CONTACT US: we are at your disposal for further information or for a free quote at info@onebeat.events